good lookin' ~ lookin' good ~ good lookin' ~ lookin' good ~ good lookin' ~ good lookin' ~ lookin' good ~ good lookin' ~ lookin' good ~ good lookin' ~
lookin' good ~ good lookin' ~ lookin' good ~ good lookin' ~ lookin' good ~ good lookin' ~ lookin' good ~ good lookin' ~ lookin' good ~ good lookin' ~
good lookin' ~ lookin' good ~ good lookin' ~ lookin' good ~ good lookin' ~ good lookin' ~ lookin' good ~ good lookin' ~ lookin' good ~ good lookin' ~
It all started with a good mood. A consistent correlation between using beauty products with effective, non-irritating ingredients and feeling...happier. We wanted to bottle that feeling up (literally), which is how the idea for Squigs was born.
Hydrated
Skin

Healthy
Scalp

Happy
Headcare
Double Shot Face Serum ($28)
Formulated with hydrating superheroes like Niacinamide, Hyaluronic Acid, Aqualane, and Avocado Oil and infused with extracts with Ayurvedic properties like Tumeric, Tulsi, and Neem, our Double Shot Face Serum is the ultimate pick-me-up for dry or dehydrated skin. In addition to delivering an instant burst of moisture, it also has a plumping and calming effect to make your skin (and you) extra happy every time you use it.
Shop Now
Goosberry Delight Hair Oil ($34)
Our 4x award-winning headcare treatment for strong, shiny hair and a healthy scalp. Derived from the gooseberry plant, Amla oil has been used as a beauty treatment in Indian communities for centuries. Our formulation also includes Coconut Oil, Castor Oil, Kalonji Oil, Apricot Kernel Oil, and Orange Peel Oil.
Shop Now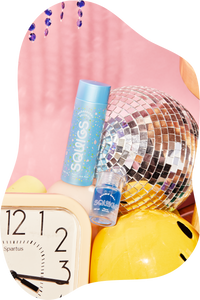 PINKY PROMISES:
Rooted in Ayurveda
Cruelty-Free & Vegan
Silicone & Paraben-Free
Made in the USA
Synthetic Fragrance & Dye-Free