Welcome to the Squigiverse. We're so glad you're here.
We knew it was possible to make more effective versions of our favorite products that were free from synthetic fragrances and dyes, but they were either impossible to find or — in some cases — didn't exist at all. So we decided to create them ourselves.
The more we learned about the transformative power of good ingredients, the clearer our mission became — and the more it started to encompass. That's when headcare was born: a comprehensive approach to caring for the skin on your face *and* scalp, because both are equally important.
We also believe that true headcare can manifest inside and out, which is why everything about Squigs, from our formulations to our packaging, is designed to make it easier (and fun!) to cultivate happiness through beauty.
Beyond making effective products with the very best ingredients, we're passionate about modeling a better way of talking about them — and about beauty in general. Squigs doesn't ignore the reality that bad hair and skin days exist, but rather than promising quick fixes or miracle cures, we hold space for whatever feelings crop up when you happen to wake up with a giant pimple, or that one pesky little hair doesn't want to stay put. We also deliberately describe our products in ways that reinforce this point of view, routinely emphasizing efficacy and enjoyability over the idea that perfection is achievable. The products Squigs creates, and the words we use to describe them, are equally important parts of our ultimate goal: to put you in a good mood.
Because of our beliefs in *headcare*, a percentage of proceeds will be donated to a mental health charity. If you don't take care of what's inside your head, what's the point?
Pinky Promise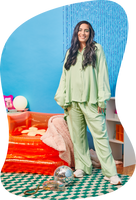 Hi! I'm Nikita, the founder of Squigs. Over the course of a decade, I've worked as a beauty and fashion editor for various top media outlets and have tested out too many beauty products to count. I fell in love with Ayurvedic ingredients that really work and became increasingly frustrated with ones that can potentially trigger irritation like certain synthetic fragrances and dyes.
Inspired by traditional Indian hair oiling and the DIY products that were a big part of my childhood, I wanted to make an Ayurvedic brand that created effective over-the-counter formulations that were still fun and enjoyable!
Fun Fact: Squigs is actually a nickname my sister and I called each other growing up!